When you are planning to come to
Also interested in Scuba diving
Date : 2018 / Jul / 06
Weather : Sunny
Wind : South West
Air temp 30.0 ℃ Water temp 26.8 ℃
Dive site #1 NAKAYUKUI Entry 9:50 Exit 10:37 Dive time 47min
MaxDepth 13.2m AveDepth 8.8m
Dive site #2 Over Head Rock Entry 11:37 Exit 12:17 Dive time 40min
MaxDepth 26.2m AveDepth 13.6m
Dive site #3 Mini Dream Hole Entry 13:49 Exit 14:40 Dive time 51min
MaxDepth 23.4m AveDepth 13.0m
Hisai
Today we went to fun diving with 39ers .
Helping for them with much fun !!!
The huge turtle with 2 remoras
The cute pygmy sea horse , we found 4 of them .
Black is hard to take phote . Please stay for a while .
Baby shark swimming in the cave .
Orange Spotted Filefish
They lives in clean water , In Okinawa , we have a clear water and beautiful corals .
Hawkfish anthias
I like this coler , orange-yellow and deep pink !!
We will show you colorful species of marine fish .
Please join us to enjoy Okinawan diving !!
Thank you for reading , See you next time !
はいさい
今日は恩納村で 39ersさんのお手伝いしてきました
サメに カメに 珍しいカエルアンコウやピグミーシーホースと
いろんな生き物 紹介出来てよかったー
ではでは
またんめんそーれ
日々精進 和顔愛語
明日は どこへ 潜ろうか。。。
TOYO
When you are planning to come Okinawa , Japan
And interested in Scuba diving
ダイビング ライセンス 沖縄だから 年中受付中!
外国人も 英語で 講習やファンダイビング 受けれます!
We have an under water tour for English speakers.
You can go Fun diving and Intro diving in Okinawa.
We have many dive sites in Okinawa.
Also we have a certification courses in English.
Okinawa Japan Kerama Islands Tonaki Aguni Yonaguni Manza Onna Dream Hole
Hedo USS EMMONS Ginowan Hammer head sharks
DEEP EMOTION DIVING SERVICE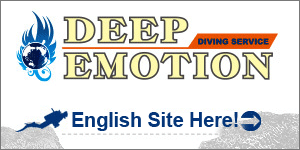 Fun diving tour for certificated divers
Intro / Discovery diving tour for no-certificated divers
Certificated course to be Scuba diver
Kerama Islands / Blue cave / Sunabe sea wall No1
Bolo point / Toilet bowl / Dream hole
USS EMMONS / Hedo air dome
Yonaguni Hammer head sharks / Under water ruins monuments
Please contact us feel free
DEEP EMOTION DIVING SERVICE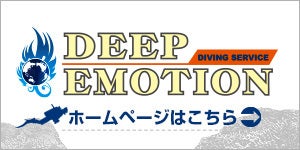 慶良間諸島 / 真栄田岬 青の洞窟 / 砂辺No1