When you are planning to come Okinawa , Japan
And interested in Scuba diving
Date : 2018 / Jul / 03
Weather : Cloudy and Rain
Wind : South
Air temp 28.0 ℃ Water temp 26.4 ℃
Dive site #1 North of NAGAN NU Island Entry 14:12 Exit 14:46 Dive time 34min
MaxDepth 28.2m AveDepth 13.8m
Dive site #2 North of NAGAN NU Island Entry 15:14 Exit 15:48 Dive time 34min
MaxDepth 12.6m AveDepth 8.8m
Hisai
Today we went to fun diving at NAGAN NU Island .
The divers are Team HATTORI .
We dove together at Yonaguni Island in Feb 2018 to see the hammer head sharks .
In this tour , our purpose is USS EMMONS !
Just after typhoon , sea condition is not perfect .
Our first plan to go RUKAN reef , but the boat not go there .
So we changed plan for going to NAGAN NU Island .
There is a strong current . The bubble go to side way .
We did refresh dive . Also I remaind they are very good divers .
So now we are ready , exciting for tomorrow !!
We will show you colorful species of marine fish .
Please join us to enjoy Okinawan diving !!
Thank you for reading , See you next time !
はいさい
今日は 与那国で一緒にハンマーヘッドを追いかけた
Team HATTORI 4名様
半年前から計画した 沈船エモンズが今回の目的
でも直前の台風で 海は荒れ荒れ
当初 ルカン礁行こうとしたけども チービシ ナガンヌ北へ変更
そこも 凄い激流でしたが やっぱり 与那国経験者は素晴らしい
深い所も 流れにも 問題なく対応します
これで 準備万端 明日に備えて 今日は飲み過ぎ注意ですね
またんめんそーれ
日々精進 和顔愛語
明日は どこへ 潜ろうか。。。
TOYO
When you are planning to come Okinawa , Japan
And interested in Scuba diving
ダイビング ライセンス 沖縄だから 年中受付中!
外国人も 英語で 講習やファンダイビング 受けれます!
We have an under water tour for English speakers.
You can go Fun diving and Intro diving in Okinawa.
We have many dive sites in Okinawa.
Also we have a certification courses in English.
Okinawa Japan Kerama Islands Tonaki Aguni Yonaguni Manza Onna Dream Hole
Hedo USS EMMONS Ginowan Hammer head sharks
DEEP EMOTION DIVING SERVICE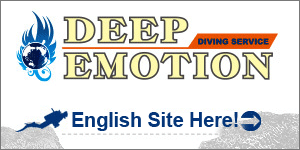 Fun diving tour for certificated divers
Intro / Discovery diving tour for no-certificated divers
Certificated course to be Scuba diver
Kerama Islands / Blue cave / Sunabe sea wall No1
Bolo point / Toilet bowl / Dream hole
USS EMMONS / Hedo air dome
Yonaguni Hammer head sharks / Under water ruins monuments
Please contact us feel free
DEEP EMOTION DIVING SERVICE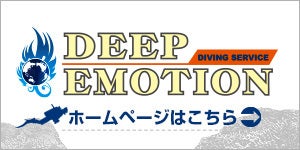 慶良間諸島 / 真栄田岬 青の洞窟 / 砂辺No1