Date : 2018 / Jan / 5
Weather : Rain Wind : North West → South
Air temp 21.0℃ Water temp 22.2℃
Dive site #1 Gorilla chop @ Motobu Entry 10:29 Exit 11:16
Dive time 47min MaxDepth 9.0m AveDepth 5.0m
Dive site #2 Gorilla chop @ Motobu Entry 12:09 Exit 12:56
Dive time 47min MaxDepth 11.0m AveDepth 6.0m
Hisai
Today is last day of traininig .
Kyle and Lisa are very nice for prepare for diving now .
Only problem is weather , hahahaha.
We met up 0700 at sea wall to ride on the boat for Kerama Island .
However the weather too bad . looks like
IMPOSSIBLE
.
So we changed dive site at Gorilla chop , 2hours drive from here .
They don't mind and enjoyed the drive way .
Their positive help me and make me happy too .
So this day is not hard actually .
Anyway we did 2 dive at Gorilla chop . About 1st dive , visibility is almost 0m.
I laughed in the water . But after 5min getting better .
We start training here .
Not so much fish than Sunabe , but rare fish is more than Sunabe .
2nd is much better tahn 1st one .
Wave , current and visibility . Everything is good .
Finaly they graduated all sessions !
Coglatulations!!
The lunch is Okinawa Soba restaurant again ( in North )
Thank you so much , Kyle and Lisa .
You are very smart and funny , I really appreciate for your help .
We had a great diving and looking forward to go again !!
Kyle , you are tall and tall nose , own gears makes more fun for your diving .
And your skills are very good ! Let's go more deep deep water next time !!
Lisa , I understood OTAKU can go scuba diving very well .
Summer , less wetsuit means less weights and easy swim for you .
Please come back summer without Typhoon .
Let's keep n touch . See you soon !!
Thank you for reading , See you next time !
はいさい
今日はKYLEと LISAの ライセンス講習日
二人は準備万端 でも 天気は最悪(笑)
慶良間に行くために早起きしたけども。。。
結局ゴリラチョップです
初めからそうすればよかったけども ちょっと時間のロス
それでも 前向きな2人は道中も楽しんでくれました
ありがとー
まぁ 着けば大丈夫かと思えば 波はうねうね 透明度 0
思わず笑っちゃいましたね まぁ 5分も進めばなんとか 明るくなってくれました
ウミウシや ウミヘビ そして オコゼ
砂辺よりも魚は少ないけど 変わったのが多いね
って 分かってるじゃないの さすが 認定ダイバー
ゆっくり休憩して 2本目はいれば 全部がパーフェクト
最後のトレーニングして 無事に 卒業です!!!
二人とも 3日間ありがとう! まだまだ見せたいものがいっぱい
また遊びに来てねー
またんめんそーれ
日々精進 和顔愛語
明日は どこへ 潜ろうか。。。
TOYO
ダイビング ライセンス 沖縄だから 年中受付中!
外国人も 英語で 講習やファンダイビング 受けれます!
We have an under water tour for English speakers.
You can go Fun diving and Intro diving in Okinawa.
We have many dive sites in Okinawa.
Also we have a certification courses in English.
Okinawa Japan Kerama Islands Tonaki Aguni Yonaguni Manza Onna Dream Hole
Hedo USS EMMONS Ginowan Hammer head sharks
DEEP EMOTION DIVING SERVICE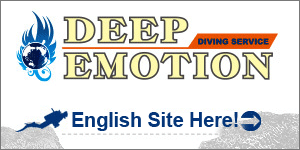 Fun diving tour for certificated divers
Intro / Discovery diving tour for no-certificated divers
Certificated course to be Scuba diver
Kerama Islands / Blue cave / Sunabe sea wall No1
Bolo point / Toilet bowl / Dream hole
USS EMMONS / Hedo air dome
Yonaguni Hammer head sharks / Under water ruins monuments
Please contact us feel free
DEEP EMOTION DIVING SERVICE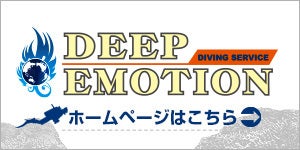 慶良間諸島 / 真栄田岬 青の洞窟 / 砂辺No1