When you are planning to come Okinawa , Japan
And interested in Scuba diving
Date : 2018 / Jul / 22
Weather : Sunny and Cloudy
Wind : Strong South after typhoon
Air temp 30.0 ℃ Water temp 28.3 ℃
Dive site #1 Twin rock @ Kuro Island Entry 9:56 Exit 10:30 Dive time 34min
MaxDepth 19.0m AveDepth 9.7m
Dive site #2 Machan-sho @ Zamami Island Entry 11:31 Exit 12:16 Dive time 45min
MaxDepth 20.6m AveDepth 14.0m
Dive site #3 U-gan @ Zamami Island Entry 13:24 Exit 14:08 Dive time 44min
MaxDepth 26.2m AveDepth 12.7m
Hisai
Today' diver
Kimura , it's 3rd time he dove with us and Shinkawa is his friend .
And Shi-chan .
We planed to go Hedo Air dome and drift diving at northen most point of okinawa main land at first .
But the big typhoon crossed the okinawa main land and messed up sea condition and our plan .
Most of dive sites were closed and boats were lift up on the land .
We expected no diving today .
However
when one door shuts another opens.
We found the boat to go Kerama Isalnds and planed all drift diving .
Yay.
The shark slept at open space , he got relaxed .
We are lucky , very nice current and clear water , just after typhoon .
2nd place is first time for us . Good team can try new dive site .
Many big sea fans like sea fans garden .
And
Lobster
.
Some times we need grab a rock ,
as if rock climbing .
I like school of fish .
We enjoyed 3 dive sites , all super drift diving .
Enjoyed drifting , felt fly high , saw beautiful world .
Thank you for Kiramu and Shinkawa .
We had a great diving with you today .
And night , they invited us for dinner and had party .
Good
exercise made us
drunk
easily and fun dives made us more funny .
We are looking forward to go next trip with you !
See you soon!!
We will show you colorful species of marine fish .
Please join us to enjoy Okinawan diving !!
Thank you for reading , See you next time !
はいさい
今日は 台風にやられて 辺戸ドームツアーが流れ
あわや 潜れないかもってところで どうにか 船を見つけて
行ってきました 慶良間ドリフト三昧!!
黒北 まちゃんしょう 男岩
想像を超える激流や 初めてのポイント 
それを裏切らない透明度や 魚影
台風の後とは思えない楽しいダイビングでした
その勢いで 夜も宴は絶好調
深夜まで ありがとうございました
また 辺戸リベンジ含めて 楽しいダイビングしましょう
お待ちしてます
またんめんそーれ
日々精進 和顔愛語
明日は どこへ 潜ろうか。。。
TOYO
When you are planning to come Okinawa , Japan
And interested in Scuba diving
ダイビング ライセンス 沖縄だから 年中受付中!
外国人も 英語で 講習やファンダイビング 受けれます!
We have an under water tour for English speakers.
You can go Fun diving and Intro diving in Okinawa.
We have many dive sites in Okinawa.
Also we have a certification courses in English.
Okinawa Japan Kerama Islands Tonaki Aguni Yonaguni Manza Onna Dream Hole
Hedo USS EMMONS Ginowan Hammer head sharks
DEEP EMOTION DIVING SERVICE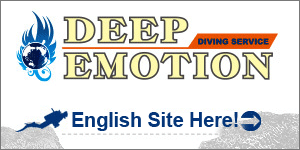 Fun diving tour for certificated divers
Intro / Discovery diving tour for no-certificated divers
Certificated course to be Scuba diver
Kerama Islands / Blue cave / Sunabe sea wall No1
Bolo point / Toilet bowl / Dream hole
USS EMMONS / Hedo air dome
Yonaguni Hammer head sharks / Under water ruins monuments
Please contact us feel free
DEEP EMOTION DIVING SERVICE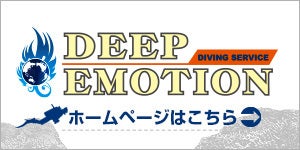 慶良間諸島 / 真栄田岬 青の洞窟 / 砂辺No1