Date : 2017 / Oct / 09
Weather : Sunny  Wind : North East
Air temp 30.0℃ Water temp 28.0℃
Haisai
Today's divers are Sean and Kono and thier friends .
Sean and Kono are great experienced divers , they useally go to beach entry
at horse shues and Bolo point ,etc .
Today , they want to go diving with their friends who are no ceritificated divers
and show them the beautiful under water would .
So we took care of them and enjoyed everybody together .
In this case , we ride on the boat to get dive sites
because it's easy and don't need
to carry heavy tanks .
We made it and everybody went to scuba diving .
Almost 40min , everybody watched the many fish and corals and NIMO .
Thank you for everybody , I wish they come back again and take ceritificated course ,
Because they are very good diver now.
And Thank you Sean and Kono for introduce us for them .
I'm looking forward to go diving again at the horse shoes and Bolo point and somewhere .
See you soon !!
Toyo
またんめんそーれ
日々精進 和顔愛語
明日は どこへ 潜ろうか。。。
ダイビング ライセンス 沖縄だから 年中受付中!
外国人も 英語で 講習やファンダイビング 受けれます!
We have an under water tour for English speakers.
You can go Fun diving and Intro diving in Okinawa.
We have many dive sites in Okinawa.
Also we have a certification courses in English.
Okinawa Japan Kerama Islands Tonaki Aguni Yonaguni Manza Onna Dream Hole
Hedo USS EMMONS Ginowan Hammer head sharks
DEEP EMOTION DIVING SERVICE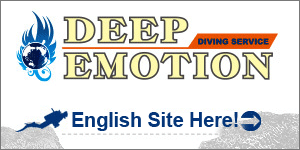 Fun diving tour for certificated divers
Intro / Discovery diving tour for no-certificated divers
Certificated course to be Scuba diver
Kerama Islands / Blue cave / Sunabe sea wall No1
Bolo point / Toilet bowl / Dream hole
USS EMMONS / Hedo air dome
Yonaguni Hammer head sharks / Under water ruins monuments
Please contact us feel free
DEEP EMOTION DIVING SERVICE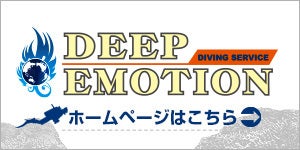 慶良間諸島 / 真栄田岬 青の洞窟 / 砂辺No1