Date : 2017 / Dec / 10
Weather : Sunny Wind : North East
Air temp 21.0℃ Water temp 25.2℃
Dive site #1 Turtle reef @ Gishippu Island Entry 9:57 Exit 10:50 Dive time 53min
MaxDepth 23.2m AveDepth 12.8m
Dive site #2 ARIGA cables @ Tokashiki Island Entry 11:33 Exit 12:24 Dive time 51min
MaxDepth 23.8m AveDepth 12.2m
Dive site #3 JITSURU @ Gishippu Island Entry 13:45 Exit 14:34 Dive time 49min
MaxDepth 24.8m AveDepth 13.6m
Hisai
Today we went to Kerama Isalnds with Kei and Shi .
They are going to Yonaguni Isalnds 2018 Jan and Feb .
Last February they saw many and big group of sharks .
And they know the diving at Yonaguni island is very hard and need skills .
For example , going down quickly , swim very fast and long distance , good ear
equalizing
and keep nutral bouyancy etc .
It's not a power but a
technique
and experience .
So today we do training diving
on the assumption that we are Yoanguni and drift diving .
Also check geras , we use same gears sam wetsuits same tank with Yonaguni Island .
1st dive at The turtle reef
We swim against current and deep place
And we found small stuff .
2nd dive at ARIGA cables
We swim long way and save air very well
last dive at JITSURU we did drift diving
We completed 3 dives in strong current well .
We are ready for Yonaguni island now .
And my friends told us the sharks already show up !!
I can't wait diving with sharks !!!
So exciting !!!
Thank you for reading , See you next time !
はいさい
今日は KEIちゃんと SHIちゃんと 慶良間諸島へ行って来ました
二人とも 次の与那国 ハンマーヘッドシャークのシーズンに行く予定です
といっても 2人とも 前シーズンも行ってるし 大群に出逢ってます
そのうえで 強い流れの中で泳いだりもぐったりする事の
大切さを知っているので 事前にトレーニングです
3カ所潜って スキルチェックしながらも
大体 見つけるのは マクロ(笑)
もう 冬ですね。。。
器材のチェックや 冬用のウェットスーツでのウェイトのチェックも
無事に終了
早くサメの大群と 泳ぎたいですね
楽しみ 楽しみ!!
またんめんそーれ
日々精進 和顔愛語
明日は どこへ 潜ろうか。。。
TOYO
ダイビング ライセンス 沖縄だから 年中受付中!
外国人も 英語で 講習やファンダイビング 受けれます!
We have an under water tour for English speakers.
You can go Fun diving and Intro diving in Okinawa.
We have many dive sites in Okinawa.
Also we have a certification courses in English.
Okinawa Japan Kerama Islands Tonaki Aguni Yonaguni Manza Onna Dream Hole
Hedo USS EMMONS Ginowan Hammer head sharks
DEEP EMOTION DIVING SERVICE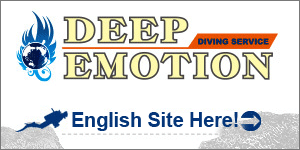 Fun diving tour for certificated divers
Intro / Discovery diving tour for no-certificated divers
Certificated course to be Scuba diver
Kerama Islands / Blue cave / Sunabe sea wall No1
Bolo point / Toilet bowl / Dream hole
USS EMMONS / Hedo air dome
Yonaguni Hammer head sharks / Under water ruins monuments
Please contact us feel free
DEEP EMOTION DIVING SERVICE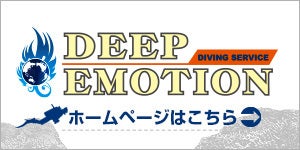 慶良間諸島 / 真栄田岬 青の洞窟 / 砂辺No1