Date : 2017 / Dec / 29
Weather : Sunny  Cloudy   Wind : South East
Air temp 19℃ Water temp ℃
Dive site #1 John Man Beach
Entry 10:33 Exit 11:14 Dive time 41min MaxDepth 23.8m AveDepth 13.0m
Dive site #2 Tokomasari
Entry 12:07 Exit 12:50 Dive time 43min MaxDepth 12.2m AveDepth 7.8m
Hisai
Today we went to Fun diving with Peter from Osaka now .
On the Itoman boat by
R.A.D
It's 3rd time diving with us , thank you coming many times .
So we choice new place around Itoman .
It's dynamic dive site and chance for big stuff .
After start dive 5min , we met turtle .
Big moray eel stayed behind the rock .
Swim through the crack and tunnels
Also we enjoyed small stuff and school of fish
Most of pictures by Peter .
Now he is growing up as a good under water photographer too .
After 2 dives we went to Ramen shop .
The hot ramen makes us hot !
So we promised that going Yonaguni Island together
and completed this tour today .
I think he will work in Okinawa in the future , hahaha .
See you soon , Peter . Happy new year !!
Thank you for reading , See you next time !
はいさい
今日はDEEPEMOTIONに 遊びに来て3回目になるPETERです
慶良間も青の洞窟も 恩納村もいってるし
今回は 南部糸満ボートで ファンダイビングです
南部は 大物も地形も マクロも楽しめる素晴らしいポイントです
北風に強くて これからの季節にピッタリ
今日は カメや バラクーダの群れ
ウミウシなんかもちゃんと見つけて
いいカメラの練習にもなりました
ダイビングの後は ラーメンで〆
次は与那国あおう! またね PETER
またんめんそーれ
日々精進 和顔愛語
明日は どこへ 潜ろうか。。。
TOYO
ダイビング ライセンス 沖縄だから 年中受付中!
外国人も 英語で 講習やファンダイビング 受けれます!
We have an under water tour for English speakers.
You can go Fun diving and Intro diving in Okinawa.
We have many dive sites in Okinawa.
Also we have a certification courses in English.
Okinawa Japan Kerama Islands Tonaki Aguni Yonaguni Manza Onna Dream Hole
Hedo USS EMMONS Ginowan Hammer head sharks
DEEP EMOTION DIVING SERVICE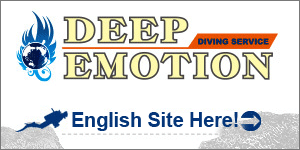 Fun diving tour for certificated divers
Intro / Discovery diving tour for no-certificated divers
Certificated course to be Scuba diver
Kerama Islands / Blue cave / Sunabe sea wall No1
Bolo point / Toilet bowl / Dream hole
USS EMMONS / Hedo air dome
Yonaguni Hammer head sharks / Under water ruins monuments
Please contact us feel free
DEEP EMOTION DIVING SERVICE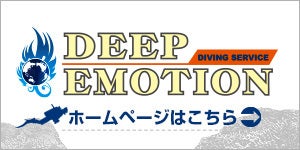 慶良間諸島 / 真栄田岬 青の洞窟 / 砂辺No1